Day 01
Coimbatore
It was a sudden plan for a motorbike ride and we hardly had a week's time. Covering 1000kms within 15 hours was a big deal for us. Three people, Two bikes UM Renegade Commando and Benelli TNT 600i were up for the ride. The Thumb rule of riding is "Always Start before Sunrise" and so we planned to Start by 5 'o clock in the Morning. As per our plan we wanted to reach Bangalore in 5 hours and it was around 8 'o clock when we had our breakfast in A2B which is on the Salem – Dharmapuri highway. I didn't want to get dizzy by eating oily stuffs, so we all ate 2 Idlies and a cup of coffee. We also filled our Petrol tanks in the nearby pump. I maintained a minimum Speed of 110kmph inorder to reach on time. At last, we reached Bangalore by 10:40AM and we got stuck in the usual Bangalore traffic.
Bangalore
It was a 100km ride from Electronic City to Tumkur, there was a toll which charged Rs. 60 for all the Two-wheeler vehicles for a 40km stretch. The toll road was too good with less traffic. We took a short 10 minutes break in between for re-hydrating ourselves with Electrolytes. It was 12:30PM when we reach Tumkur and we stopped by a Cafe Coffee day for a bite. Since the next highway is AH47, we do not want to stop for lunch anywhere until we reach Hubli. After an hour spending in Cafe Coffee day, we again geared up at 1:30PM and started our Yatra. The AH47 is such a beauty, 3 lanes till Davanagere, all you can do is only throttle throttle and throttle. I didn't want to reduce my cruising speed, it is a now or never situation and also a good chance to test my vehicles top speed. I clocked a maximum speed of 135kmph in a stretch and later I constantly maintained a speed of 120kmph. Since my wife was in the pillion, we had to stop and take a 10minute break every 150kms and also we had to re-hydrate ourselves then and there. It was too hot but to tolerate it we had to keep on riding. Again we had to feed our vehicles, So we had a pitstop after crossing Chitradurga. Sun showed some mercy on us and it was drizzling for sometime but yet we managed to drive and reached Hubli by 6:30PM.
Hubli
It was a 4 hour solid ride to Panaji covering 200kms. From Hubli to Goa it was a Single lane road where we had some difficulties in riding since it was about to get dark. It was ruled by trucks, leaving us less chances of overtaking them. Yet we managed and covered 70kms and we are remained with 130kms to Panaji. It was totally dark and roads became narrowed. There were 3 railway crossings in which we took our chances to stretch out. After covering 40kms, we stopped by for dinner in a place called Ram Nagar. We had a couple of Rotis and got ready for our journey. It was another 80kms of Ghat road, fully covered by flora. Not even a single street light, depending fully on the road reflectors. We managed to maintain a speed of 60-70kmph to ensure safety. My mobile battery was draining since we were using it for navigation. The roads are too good and for 20kms we rode on a hilly terrain, which suddenly came out of nowhere. Crossing all these, we reached our destination around 11:15PM at Panaji.
Day 02
Calangute
We had our stay near Calangute beach (Ashish Guest house), since we didn't plan or reserve about our stays. One normal A/C room cost was R.1500 per night which is quite costly. We visited Calangute beach and we had our breakfast in one of the shacks and we stayed there till 4PM. Again around 7PM we visited Baga and we had our dinner and signed off for the day.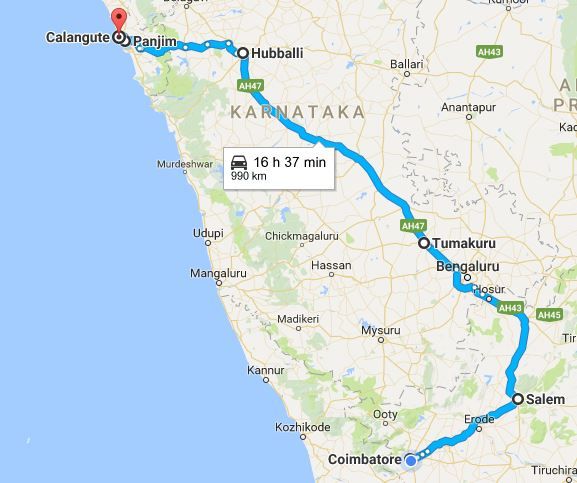 Day 03
Calangute
We had our breakfast at Ram Nagar in the same hotel where we had our dinner. The next stop was Hubli where we filled our Petrol tanks. The road was little bumpy where at some point it caused my rear tyre to wobble. The scorching heat from the sun was literally frying us. Electrolytes were our holy water, after crossing 120kms from Hubli, we stopped by a Cafe coffee day near an Indian Oil Petrol Pump. We spent an hour there and again started our ride. On the way, we sighted some super bikes like Triumph Daytona and Kawasaki versys and the riders were cheering us by showing their thumbs up. We had to keep on riding to overcome the heat and at last we reached Tumkur around 6:00PM. The traffic was high and it was raining in the toll road (Hosur Road). Around 8 'o Clock, we were dead tired, since we were totally on Electrolytes for the past 8hours. We felt our stomachs begging for food, so we stopped in a hotel near Hosur.
After dinner, we started from hosur around 9 'o clock and according to our schedule we lagged behind 2hours. It is supposed to be a 4hour ride from Hosur to Coimbatore but the weather had other ideas. Since it is a night ride, I had to be very much cautious on the highways especially with the trucks. It started to rain once we cross Krishnagiri, so we took a shelter in the nearby Petrol pump waiting for the rain to stop. I was literally tired and had a quick nap lying down without minding the people. We had no other choice but to start since the rain does not stop but drizzles. After we cross around 10kms, it was again started to rain but this time it was raining heavily and we were fully drenched in the rain. Finally there was one Aavin coffee shop which was opened and we stopped by for a cup of coffee and waited for another 45minutes. It was raining continuously till we reach Coimbatore and we took rest in every highway tolls for 15minutes. It was 5 'o clock when we reach Coimbatore and it was a complete 24hours journey on the way back.
P.S. : Reason behind less pictures is because we didn't stop by to take photos.